For 3 – 6 yrs

72 best-loved Bible stories have been selected and bring the Bible to life for the very young. Staying close and faithful to the Bible text itself, the stories are presented in a way that young listeners and readers will find easy to understand and enjoy. This Children's Bible will be a wonderful first and lasting experience of the greatest stories from the Bible for children and families to treasure and is a great introduction to God's wonderful Word.
For 3 – 6 yrs

26 timeless Bible stories from the Old and New Testaments.

The Story Bible for Kids consists of 26 beautifully illustrated stories, perfect for children aged 3 to 6. The sturdy board book format and carry handle means that children can take it along wherever they go.

The excellent selection of 14 stories from the Old Testament and 12 stories from the New Testament capture the essence of the Bible in a way that children cannot help but fall in love with.

Dramatically illustrated, Scripture-referenced and easy to read, The Story Bible for Kids is not only simple enough for young kids to understand, but also detailed enough to keep older children wanting more.


Combining brilliant writing and classic illustrations with biblical truths, The Story Bible for Kids is sure to captivate the imaginations of both parents and children alike.

Also available in Afrikaans under the title Die storiebybel vir kinders.
For 5-8 years

Send your children on the greatest of all adventures.
The multiple award-winning The Jesus Storybook Bible tells the Story beneath all the stories in the Bible with unique illustrations in bright, fresh colours.

At the centre of the Story is a baby, the Child upon whom everything depends. Every story whispers His name. From Noah to Moses to the great King David – every story points to Him. He is like the missing piece in a puzzle – the piece that makes all the other pieces fit together.

From 21 Old Testament Bible stories and 23 New Testament ones, children will pick up clues as the Story unfolds and piece together the puzzle.

The Jesus Storybook Bible invites children to join in the greatest of all adventures, to discover for themselves that Jesus is at the centre of God's great story of salvation – and at the centre of their story too.

Also available in Afrikaans under the title My Jesus-Storiebybel.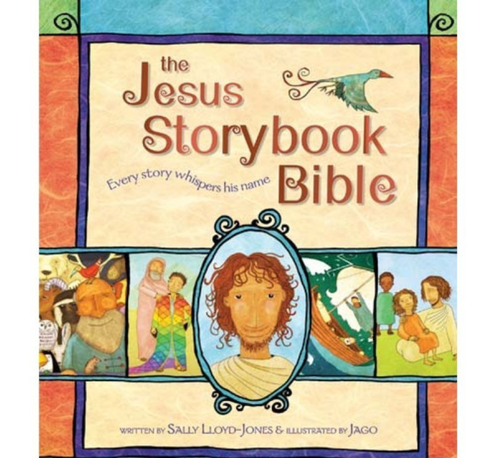 Words to Dream On is the perfect bedtime storybook for young children, with a "once upon a time" voice that is also true to God's Word.

Over 50 stories-from the Old and New Testaments-create an overview of the entire story arc of the Bible. Stories are selected and retold for young children with a focus on God's love, care, protection, trustworthiness, and power. Each story includes an engaging title, a Bedtime Blessing (a short summary thought), Words to Dream On (a brief Bible verse), and a Sleepy-Time Prayer (a good-night prayer tied to the theme of the story).

The book also includes a short letter to parents that includes tested ideas for establishing a good bedtime routine with young children and tips for reading aloud to children at bedtime.
THE BIBLE MADE EASY
FOR KIDS
For 8-12 years

Help children make sense of the Bible.
The Bible is a big Book, and we are blessed to have such a collection of inspired writing – the Word of God – at our finger tips.

Yet, due to its sheer volume, fine print and writing style, children usually find it difficult to pick up and read a standard version of the Bible.

The Bible Made Easy – for Kids by Dave Strehler is aimed at helping your children make sense of the Bible by engaging them in practical ways to make learning about the Bible fun and interesting.

The Bible Made Easy – for Kids will guide your children through the Bible by answering some of the most common questions they have about the events and characters in the Bible providing interesting facts to stimulate them and get them excited offering visual descriptions of what they read to help them remember drawing modern-day comparisons to certain Bible concepts/traditions and putting it into context word definitions Question and Answer sections that assess whether they can remember what they've read.

Also available in Afrikaans under the title 'n Ontdekkingstog deur die Bybel – vir kinders.
YOU ALWAYS HAVE A FRIEND IN JESUS
FOR BOYS
For 8-12 years
A guide for tween boys on how they can live like Jesus every day.
We all need a friend we can count on and Jesus is the absolute best Friend to have! Athletes, musicians, actors, and other grown-ups – these are the people tweens look up to. But the best role model of all? That's Jesus – the hero who's also our Best Friend.
In You Always Have a Friend in Jesus for Boys, best-selling author Jim George explores ten ways that tween boys can live like Jesus every single day. With God's help, they can have:
confidence to be who they are
courage to do the right thing
discipline to get stuff done
faith that it's all going to turn out okay
focus to reach their goals
Boys will see how Jesus lived out these character traits in His everyday life on earth, and will discover suggestions for making them real in their own lives. Help your tween become the kind of guy others look up to, a guy who points them to the ultimate role model – Jesus
Also available in Afrikaans under the title Jesus – die beste vriend ooit
A GIRL AFTER GOD'S OWN HEART COLOURING BOOK
For 8-12 years

In this unique colouring book, girls will add their own creative touches to beautifully designed quotes and encounter powerful Scripture verses on each page. Help a tween girl discover what it truly means to seek God's heart.

A Colourful Way to Inspire Her Faith - Bestselling author and trusted Bible teacher Elizabeth George wants to help your tween daughter, age 8-12, understand what it truly means to be a girl after God's own heart.

As your daughter adds her own creative touches to these beautifully designed quotes from A Girl After God's Own Heart using her crayons, coloured pencils, or markers, she'll also meditate on powerful Scripture verses included on each page.

Each page is perforated so your daughter can tear out her creation to hang on her wall or locker, give to a friend, or share with an adult.
For 8 – 12yrs

Now children can learn to think, act and be like Jesus too!

The 60 beautifully illustrated stories from the Old and New Testaments in the Believe Storybook highlight im­portant biblical truths and answers big questions about God that will inspire you and your children to become more like Jesus. Each of the 30 chapters starts with a key question, followed by a story from the Old and New Testaments, and concludes with the answer to the key question asked at the beginning.

The Believe Storybook forms part of the Believe campaign, designed by Randy Frazee to lead churches in thinking, acting and being more like Jesus. It gives your children the chance to take part in the Believe campaign with the rest of the family, learning just how much Jesus loves it when they follow His example.

Also available in Afrikaans under the title Ek glo – Storieboek
INDESCRIBABLE:
100 DEVOTIONS FOR KIDS ABOUT GOD AND SCIENCE
For 8 – 12 yrs
Discover the wonders of the universe with the Creator.
It's impossible to out-imagine God. He orchestrates time, creates light, and speaks things into existence—from the largest stars to the smallest starfish. God is a powerful, purposeful, personal, unparalleled Creator. Psalm 19:1 says, "The heavens tell the glory of God. And the skies announce what his hands have made."
Indescribable displays the majesty of creation with scientific findings, photography, and original illustrations. These 100 devotions encourage awe at God's creativity with an in-depth look at:
Space, Galaxies, Planets, and Stars
Earth, Geology, Oceans, and Weather
Animals—from Hummingbirds to Dinosaurs
Our Minds, Bodies, and Imaginations
Each devotion features a "Be Amazed" section with fascinating facts, hands-on activities, and a closing prayer. Based on Louie Giglio's popular messages: "Indescribable" and "How Great Is Our God," Indescribable: 100 Devotions About God & Science will help kids discover the incredible creation of our indescribable God.